Feb 14, 2012
Effective Home Remedies to Stimulate Hair Growth
Those looking for home remedies to help with hair growth do so mainly for a couple of reasons; One, it could be because one was born with fine hair and wants to learn how to make their hair grow thicker and longer. Or, it could be because one is losing their hair due to aging. Although it is mostly men who lose their hair due to genetics and aging, women too can be affected.
There are a vast amount of hair growth remedies one can use to grow their hair or prevent hair loss due to aging, genetics and other factors. All the best herbs and home remedies to thicken hair and stimulate hair growth are discussed below:
Home Remedies
Apple Cider Vinegar for Hair Growth: This not only works well to reduce dandruff, but can also be used to promote the growth of your hair. It can be used in two ways; you can apply it topically on your hair once daily, or you can take two teaspoonfuls twice daily in a cup of water. Ideally, you should take the home remedy orally a well as apply it topically.
Arnica: This is a plant related to the sunflower, and is also used as a remedy for hair loss as it increases blood circulation locally. It can be applied as a cream, ointment, or hair rinse twice every day.
Garlic and onions for Hair Growth: Garlic and onions are good, as they have anti-bacterial and anti-fungal properties. You should eat them raw on a regular basis or crush them and apply to areas where there is hair thinning. Garlic and onions improve blood circulation to the scalp to promote hair growth.
Spinach: Drinking fresh spinach juice at least once daily can help you detox your liver and thus promote hair growth.
Neutral Henna for Hair Growth: This is useful as it used to thicken hair and can also help cover up signs of your thinning hair. It also makes the hair that remains much stronger. Neutral henna should be mixed with water to form a thick paste when you want to use it. You should apply it on the hair and wrap it in a plastic film. Neutral henna should be used each week.
Foods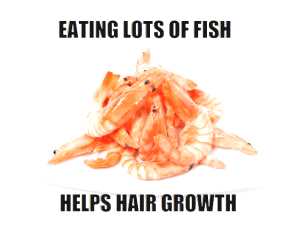 What you eat may be hindering your hair growth. However, healthy eating can help your remaining hair look thicker and healthy. Foods like olive oil, oily fish, avocados, and walnuts are good sources of fatty acids which are essential for healthy hair.
Female hair loss is a common undiagnosed condition. It may be caused by anemia; which is caused by lack of iron in a diet. Therefore, women should always eat foods rich in iron such as spinach, lettuce, and broccoli as they can help prevent hair loss.
Consistently using these foods can really help a lot.
Vitamins
You should make sure you take plenty of vitamins. You can also take supplements such as biotin, zinc, vitamin B complex etc. if you are not so sure of vitamins in your diet. For more information see our article on vitamins for hair growth.
Natural Treatments
Here are some more effective natural home remedies that one should try in order to prevent or reduce hair loss:
Rub your clean scalp vigorously with fingers as it helps to prevent hair loss. Doing this activates the sebaceous glands and boosts blood circulation on the scalp to make the hair grow healthily.
A mixture of equal quantities of fresh lime juice and alma juice, when used as shampoo, can prevent hair loss and stimulate hair growth.
Taking about half a liter daily of a mixture of spinach and lettuce juice can help prevent hair loss and also promotes the growth of your hair.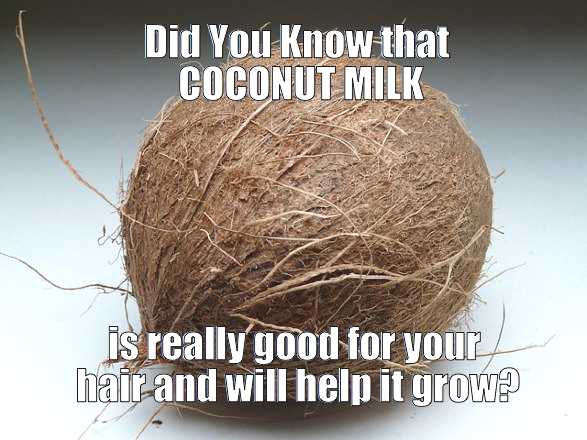 Coconut milk for hair growth: This is one of the more well-known home remedies that is repeatedly reported to have good results for hair growth. Other than eating it, you can also apply coconut milk on your scalp and massage the hair roots with it to treat hair loss. Coconut milk nourishes the hair and helps it grow and is also well known to thicken up your hair.
Onions have been found to help in treating patchy baldness. Rub the affected part till it turns red twice daily; mornings and evenings. Then you should rub some honey afterwards.
Herbs
There are many herbs you can use as which will help a lot. Saw palmetto is a good herb that can help men in particular to grow their hair. Apart from this herb, there are various other good herbs for hair growth and they include birch, cat-mint, nettles, horsetail, licorice, marigold, chamomile, aloe, parsley, burdock, sage, rosemary, southern-wood, and stinging nettle.
Herbs help improve blood circulation and thus adequate amount of blood is supplied to the scalp. Some herbs like stinging nettles, nettles, and aloe can improve skin conditions and purify blood. Licorice helps in thickening of hair and prevents hair loss.
Herbal home remedies are arguably the best in hair care because they don't have side effects. However, before you use any herbs as remedies for your hair, it is always wise to consult with an herbalist.
Special Herbal Remedy
ReGrow Plus is a blend of carefully chosen herbal ingredients known to promote healthy circulation and support healthy thyroid functioning. Used regularly, special herbal remedy can help to maintain healthy, strong hair and promote hair growth by supporting the body's natural ability to stimulate and nourish the tiny hair follicles to produce abundant hair.
Learn more about ReGrow Plus here!
….People said appearance doesn't matter but to me it does. I can recommend ReGrow Plus to anyone…  - Sherri B.
Other Hair Growth Stimulation Methods
Apply refined coconut oil every day, mixed with lime juice and lime water on your hair to prevent hair loss and lengthen it. You can also apply coriander juice on their head as it is said to be beneficial.
Regularly using castor oil on the hair also helps to thicken hair and contributes in luxuriant growth of hair.
Do not forget to eat a well balanced diet for healthy hair. The diet should be made of foods that can supply all the essential nutrients needed for the growth of healthy hair. See these top 10 foods for healthy hair growth from webmd.com . The diet should contain adequate amounts of grains, seeds, nuts, fruits and vegetables. However, these foods should be taken with some other special foods, for example milk, honey, wheat germ, vegetable oils, liver and yeast.
I hope you have enjoyed our list of home remedies and natural treatments so be sure to make use of them to prevent hair loss and promote the growth of strong and healthy hair.
It is always wise to consult with a health professional before using any home remedies for any reason.
Related Posts :
13 Responses to "Effective Home Remedies to Stimulate Hair Growth"