The Big Book of Home Remedies Format Options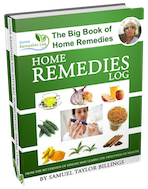 The Big Book of Home Remedies offers from ten to twenty-five different home remedies and natural health treatments each for over one hundred different common health conditions. That's nearly 2000 different remedies. No matter what health concern you have, you will find a home remedy for it in this book. From acne, acid reflux, bronchitis, depression, eczema, sore throats, sore muscles, PMS, yeast infection, conjunctivitis and so on.
This book will save you money from less visits to the doctors, less prescription medicines and that means less side effects too, everything you need is already in the kitchen or garden or if not, soon will be after you get this amazing book. Anybody interested in natural health, holistic healing and home remedies is going to absolutely love The Big Book of Home Remedies!
Option 1/ Ebooks
EBOOK – Buy through CLICKBANK for $9.95
Zip file containing both .PDF and .MOBI files. (Amazon kindles and other ebook readers can read .mobi files.) INCLUDES BONUS to MEMBERS AREA for FREE EBOOKS.
EBOOK through Lulu.com – PDF 387 pages 21MB Buy for $9.95
Read using Adobe Reader on any computer.
EBOOK through Lulu.com – EPUB  4.68MB 325 pages Buy for $9.95
Read on any Epub reader device, kindle etc.
EBOOK through Amazon Kindle – Ebook directly through Amazon Kindle at $9.60
(Those familiar with Amazon kindle may feel more comfortable purchasing this way)
Option 2/ Beautifully Made Real Books
PAPERBACK through Lulu.com  – 230 pages 8.5 inches wide x 11 tall Buy for $25.19
(Similar size to a standard phone book but not quite as thick.)
HARDCOVER through Lulu.com – 268 pages 6 inches wide x 9 tall Buy for $35.78
(Handy pocket book size.)
PAPERBACK through Amazon – 230 pages Product Dimensions: 11 x 8.5 x 0.5 inches $25.19
(This is the best way for buyers in India and Eastern countries for the cheapest postage costs)
NOTE# To claim the INSTANT FREE BONUS (over 415 ebooks on natural health and home remedies) you must include a purchase of the ebook version through Clickbank using option 1. However, any purchase option you choose will entitle you to get a members password, just send me an email with your receipt for any of the above options and I will personally reply with your members area password. (The clickbank option does this automatically)
And if you do decide to buy my ebook, please leave a message somewhere on my website letting me know what you think, and what you think of the bonus too? I am hoping you will find it to be one of the best home remedies resources you have ever come across. Thank you.
All prices are in US currency. Thanks…