Beginning Yoga
Yoga is an amazing form of exercise to get into. It will completely transform your body, but also your mind. It's also one of the easiest forms of exercise to start because it is non-aerobic.
It's suddenly risen to fame over the last number of years, but it's actually been around for over 5000 years. It can help with all sorts of health complaints from a sore back to bladder spasms, you will be surprised at what a difference Yoga can make to your particular condition.
Although yoga is great for you there are some important factors to take into consideration before you attempt it. Follow these guidelines and make sure you get off to the best possible beginning.
Check in with your Doctor
If you have a pre-existing health condition it's obvious you should check in with your doctor before you start yoga. It's always good to be on the safe side in case something does go wrong. If you are pregnant you should also consult someone and get the go ahead. Although it should be fine it isn't worth the risk to put your baby in danger because you can't be bothered seeing a doctor.
It Can't Perform Miracles
Yoga is absolutely fantastic for your health. No matter how much it will help you it can't be substituted for medical care. If you are suffering from any injuries or conditions it won't necessarily make you all better. You still have to consult with the proper health care providers and make sure you are getting the right treatment.
You Need to be Taught
There is always the risk that you can pick up an injury. You might even do yourself some serious harm. That's if you go it alone. Don't try and be a hero. Always seek the help of a good teacher who can show you the right way to perform the poses and help you avoid any risk. You'll also enjoy it so much better when you're surrounded by people in the same boat as you.
Take it Easy
Yoga isn't like football. You are not in competition with anyone else. It doesn't make you any better than anyone in your class if you try to rush and beat everyone. The only one you will end up beating is yourself. Take your time and learn everything at your own pace. A pace which will give you the best possible results.
Warm Up Before You Get Going
The easiest way to cause yourself an injury with any physical exercise is by throwing yourself into it without warming up first. It seems like such an easy thing to skip. It shouldn't be if you value your health. Don't go crazy and spend ages stretching every muscle you can think of. An easy way to find a good warm up routine is by asking your teacher.
Ask, Ask and Ask
If you get stuck at any point in the class you should ask your teacher for assistance. It's important you get it right and that's what they are there for. Don't feel you need to keep quiet because you are scared of what others might think. Everyone has to go through the exact same thing when they begin and you will progress at different speeds. It's perfectly normal.
If you enjoyed this article, you might like to check out Yoga Girls, a yoga studio designed just for women.
SereniTEA

Natural yet effective tea by natural means enhances intimate tranquility
Aids a soothed mood
Moderate, beautiful zing
Produced from the finest quality, ultimate tasty leaves, herbals and posies
By natural means caffeine-free
One and a half ounces parcel, brews thirty to forty drinks
Learn More About SereniTEA HERE!
PDFs About Yoga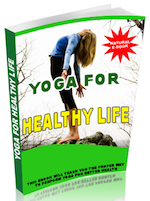 Pick up this particular e-book immediately: Yoga for Healthy Life
Register with our weekly helpful tips news letter and obtain home solution and natural health and wellbeing pdfs such as this one supplied to your inbox weekly completely free!.
Should you order my exclusive ebook, "The Big Book of Home Remedies" you can furthermore receive instant admission to our secret members zone that allows you to download and install any one of our two hundred and thirty and more organic health and wellness ebooks totally free.
Related Posts :