Although home remedies are not a complete cure for this problem, coupled with what's known as the psoriasis diet, these natural remedies will help tremendously. This article discusses everything you need to know about psoriasis and offers some very helpful home remedies which will go along way in reducing the symptoms of someone suffering from psoriasis. Read right to the end of this article and watch the videos to really get a good understanding of this complex disease.
This condition is characterized by appearance of inflamed, dry scaly and red patches on an individuals skin. a healthy diet is necessary for curing this condition, although there is no set psoriasis diet, addition of some nutrients in your diet will help a lot, this includes folate, Beta carotene, anti-oxidants, zinc and omega-3 fatty acids. The best dietary advice for patients suffering from psoriasis is to eat a sensible psoriasis diet which is low in sweets and fat and high in fruits and vegetables. A healthy diet will not cure psoriasis, but it strengthens the immune system and provides relief from its symptoms.

This skin condition makes people self-conscious about their skin appearance and will definitely affect an individuals self esteem. Since there is no formula for treating psoriasis permanently, an individual needs to learn how to deal with the occasional flare-ups. When dealing with flare-ups it is advisable to always take wonderful care of your skin, always use heavy moisturizing products which will help improve the overall health of your skin. If your skin breaks out into patches it is advisable to treat it as soon as possible using various natural remedies.
What is Psoriasis?
So, what is Psoriasis? Psoriasis is skin condition characterized by red patches everywhere in the body and occurs in people having a compromised immune system. Is Psoriasis contagious? No it isn't. Psoriasis can cause embarrassment, discomfort and pain to its sufferers. Although the exact origin of psoriasis is not fully known, experts believe that genetics, alcohol, smoking, stress, medications, and diet to be the possible triggers for psoriasis.
What Causes Psoriasis
There is no single clear reason as to what causes Psoriasis but is mainly accounted to a gene which may be passed on from one generation to other. The condition may not show in every generation but may show even after subsequent gap of generations. So one may get this condition even if their parents did not have Psoriasis as this may have come from their forefathers who would have had this condition generations ago. Thus there is clearly no connection of it spreading from one person to another person. Is Psoriasis contagious?; This is further confirmed that it is certainly not.
Is Psoriasis Contagious?
So, Is psoriasis contagious? The answer is definitely; Not at all. It is neither contagious nor infectious as many people have assumed to be the general perception of this condition.
The occurrence of Psoriasis can be credited to genetics which passes this as a genetic trait through the generations. Though it has many myths attached to it this is as common as any other skin condition which is not threatening or passes from one person to other by general social contact.
Psoriasis is a persistent, long-lasting chronic disease. There may be times when your psoriasis symptoms get better and there may be times when it gets worse.
The Psoriasis Diet
While many sufferers of psoriasis have speculated that certain food items may be contributing to their outbreak, many others acknowledge the role of diet in the progression of the disease. Although various research studies suggest that there is no connection between diet and psoriasis , it is a fact that, the diet we consume has a big impact on the overall health of the human body. Since psoriasis is lined with the immune system in the body, those foods that strengthen the immune system are considered to manage psoriasis better.
A psoriasis diet starts with a very simple, balanced diet and it should essentially keep the person well hydrated by including plenty of water, eating plenty of fresh vegetables and fruits, avoiding junk, refined foods, gluten rich foods, red meat, dairy products, and alcohol. People with poor eating habits have a more severe and worse form of Psoriasis. So the first step in order to reduce the severity of Psoriasis is to drink lots of water every day. Drinking eight to ten glasses of water can do wonders to the skin generally. Green leafy vegetables have been found to be very effective in reducing the condition and these should form a vital part of every meal one takes during the day. It has also been observed that certain foods should be avoided which worsen the Psoriasis condition. These include spicy and oily foods, wine and red meats which may aggravate the condition.
Healthy Diet – Modify your diet in general
Eating a healthy and well balanced diet containing beta carotene, folate and vitamin C can benefit the overall health of the individual because psoriasis patients are at a higher risk of developing heart problems and diabetes. Also, most psoriasis patient will have problems of overweight and including a healthy diet may allow you to manage your weight. A healthy diet includes eating lean meats, fruits, vegetables and whole grains.
Beta Carotene
Beta carotene is found in orange colored fruits and vegetables like carrots, papaya, sweet potato and pumpkins. Beta carotene, a form of vitamin A is known to strengthen the body's immune system. Since psoriasis is a skin condition characterized by rapid cell degeneration, beta carotene is very beneficial in slowing down the skin cell's aging process.
Vitamin C and Folate
Including adequate amounts of folate and vitamin C in the diet can prevent psoriasis. Good sources of folate include green leafy vegetables, bananas, lemons and fortified cereals. Citrus fruits such as lemon, grapes and oranges are rich in Vitamin C. Other fruits that have a high content of vitamin C include pineapple, straw berries, blueberries and kiwi. Vitamin C is an antioxidant and it has a direct effect on body's immune system.
Anti-inflammatory Diet
An anti-inflammatory diet plays an important role in regulating the skin condition. Since inflammation plays a major role in psoriasis, reducing those foods that causes inflammation in the body may help improve the condition.
Anti-inflammatory diets minimizes the severity of flare-ups thereby reducing the symptoms of psoriasis.
For people suffering from scalp psoriasis, a diet that is low in protein may be beneficial. Excess protein may put a strain on the kidneys and other organs that cleanse the blood. A low protein diet may help to balance the body's metabolism and restore all the necessary amino acids. This keeps the skin young, healthy and glowing.
Protein sources include lean meat, poultry without skin, and low-fat dairy products; full-fat dairy products and red meats should be eliminated as they can cause inflammation.
Avoid saturated and trans-fats, which are normally found in fried foods and baked goods, refined pastas and rice and concentrate on whole-grain pastas, breads, rice and cereals.
Omega 3 Fatty Acids
Omega 3 fatty acids should be included in the diet which can reduce the psoriasis symptoms like skin lesions. It also helps to reduce the inflammatory substances in the body. Good sources of omega 3 fatty acids include anchovies, salmon, halibut and trout. Various plant omega 3 fatty acids sources include flaxseed, chia seeds, walnuts, pumpkin seeds and canola oil.
Gluten Free Diet
Research studies indicate that people suffering from psoriasis have higher levels of anti-gliadin antibodies in their blood, which creates sensitivity to gluten. Gluten is a protein normally found in wheat, rye and barley which should be avoided by patients suffering from psoriasis.
Avoid Certain Food Triggers
Spicy Foods
Spicy foods should be avoided this type of food causes psoriasis to become unstable.
Sea foods
Sea foods can cause allergy to the body thereby stimulates the skin and expand the inflamed areas. In addition, the urine present in most sea foods can aggravate arthritic psoriasis.
Alcohol
Alcohol consumption should be limited and drinking alcohol may enhance the risk of developing psoriasis. Also there is an increase in the severity of the conditions and decrease in the length of time between outbreaks of psoriasis. In addition the success rate of medications that is used to treat psoriasis will reduce considerably by alcohol.
Fried Foods
Fried and baked foods should be avoided by psoriasis sufferers. This is because; the nutrients in these foods will be destroyed by high temperature cooking process, and produce harmful and toxic substances. Besides, frying makes food rich in fat content and causes indigestion, and obesity.

Following a strict diet is very important to control the psoriasis. In addition, one has to drink plenty of water to keep the skin well hydrated, which makes it less prone to irritation. Apart from this, constant monitoring of food intake can also help to improve the body's immune system, which is essential to prevent psoriasis from worsening. When the body's immune system is improved, it can automatically protect itself from the harmful elements that trigger psoriasis. So when considering a diet for psoriasis, it is important that it should be helpful in building the body's immune system.

Natural treatments using these diets can be very helpful in controlling the skin conditions caused by psoriasis. Eating a healthy psoriasis diet is a indeed a wise preventive home remedy for psoriasis and it will be possible to control the symptoms of psoriasis and live a healthier and better tomorrow.

Tips on the psoriasis diet and eating healthy from registered dietitian and nutritionist; Rachael Richardson
Home Remedies and Treatments for Psoriasis

Now that we understand what causes psoriasis, let's move on to the possible treatments available. Though it has been established over the years that there is no definite cure for Psoriasis there are some products available in the market which claim to do wonders. However these should be tried with caution as some of these may be just marketing gimmicks. Though use of UVB phototherapy has been reported to be helpful in successfully clearing Psoriasis in many cases. This may greatly reduce the scaling and inflammation of the skin. There are also some home remedies and natural ways that can help.

Condition Management
So as we have established that Psoriasis is not contagious, it needs to be reiterated that proper diet and therapy can help a person manage this condition effectively. Psoriasis is merely a cosmetic condition of the skin which needs to be accepted as it is and can be managed to a good level with proper choice of foods, lifestyle and the right kind of treatments available.
Water therapy: This is among the simplest home remedies which involves a mixture of water and sea salts creating a powerful remedy. The bokek dead-sea salt baths are highly recommended by various dermatologists for individuals with psoriasis and eczema among other skin conditions. The cleansing properties of this salt help clean the skin pores while detoxifying your body and is known as a cure for psoriasis.
Aloe Vera: Aloe vera is definitely one of the better natural psoriasis remedies. A study done by Dr Weilon patients with psoriasis showed that aloe vera helped treat up to 83% of the patients. These patients applied the aloe vera cream on their skin three times a day for 4 weeks. He recommends that the patients use aloe vera gel instead of the cream because the cream contains other ingredients.
Apple Cider Vinegar: When apple cider vinegar is diluted with water it can be used as one of the more effective remedies to relieve the scaling and itching associated with psoriasis. White vinegar and apple-cider can be diluted and applied on the head, rubbed in and then left for a span of one minute before washing it off. To restore the skin's acidity you can add a half cup of cider vinegar to your bathing water.
Banana Peel: For many years now, the Zulu community has used banana peelings to treat various skin conditions. The banana peel is one of the major ingredients in some skin products like the Exorex. This lotion contains specific fatty acids from the banana peelings which help boost an individual's immune system. Banana peel is also effective.
Castor Oil: A mixture of castor oil with baking powder can create a powerful psoriasis treatment. The cold-pressed castor oil is applied on the small, thick and well-circumscribed lesions and left overnight. As long as your skin is not broken, this psoriasis home remedy can improve the scaly, thick heel skin.
Chamomile: This is a widely used psoriasis home remedy in Europe. Chamomile contains an anti-inflammatory flavonoid compounds which helps treat psoriasis. If you are suffering from ragweed allergies please do not use chamomile to treat the psoriasis as it belongs to the ragweed family.
Cayenne Pepper: This psoriasis remedy has some anti-inflammatory properties which help cure this skin condition. Two clinical trials done which were reviewed in the archives of dermatology the 1998 November issue showed that 0.025% capsicum cream created from hot pepper helps reduce the scaling and redness in psoriasis. This cream can be purchased over-the-counter and is referred to as Zostrix or capzasin-P and can be used for a span of six weeks. You should never apply this cream on a broken skin.
Emu Oil: This oil has essential fatty acids which help treat psoriasis and so should be applied on the lesion as instructed by the producer.
Milk Thistle: This helps purify the blood by protecting and cleansing the liver while increasing the bile flow. This remedy helps reduce the rate of abnormal cell replication caused by psoriasis. Take about 300mg of milk-thistle extract thrice a day.
Watch this video for some more homemade remedies and natural recipes on how to stop psoriasis.
Natural Product To Treat Psoriasis
CLICK THE IMAGE to learn more about Skin Dr. !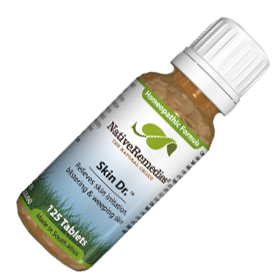 Free Ebooks related to Psoriasis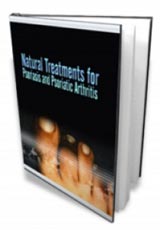 Are You Ready to Find Out Everything You Need to Know About Psoriasis and Psoriatic Arthritis? Do You Suffer From the Itching and Scaling of Psoriasis?
Get this ebook for free when you join our free newsletter.
Final Word
Although, this condition is not contagious, the main cause of psoriasis remains unknown to date. Approximately 32% of these cases have a family history of psoriasis showing a genetic link. A combination of these home remedies, a good diet and exercise will help treat this skin condition fast.
See http://www.ncbi.nlm.nih.gov/pubmedhealth/PMH0001470/ for more information.