How do you feel when you wake up in the morning? Are you excited about your drive to work, or do you wish you could spend an extra few hours in bed? If you're like most people there is no way you will be excited about going into the office, but you need to keep a closer eye on how you're feeling when you get home. You should want to spend a few evenings per week doing fun things even if work has left you a little tired.
You should be looking forward to the future and what it will bring. You shouldn't be going to bed early because you want the day to be over. Have you ever thought that you could be suffering from a mild bout of depression? If you're always tired and you have lost hope it's possible there is something wrong with you. It's important not to let it get any worse, so we're going to look at some of the things you can do to snap yourself out of it. The following tips are very helpful for a mild depression but for even more in depth help see home remedies for depression.
Get out in the sun more often

When you don't spend a lot of time in the sun your body could be lacking in vitamin D, which would explain why you're feeling under the weather. It's the reason why so many of us get the winter blues. The weather is getting warmer and it's important that you spend more time outdoors, even if you just go for a little walk in the evening before the sun disappears.
Get up and move around
If you want to feel better quickly you should get up and go for a run. When your brain starts releasing endorphins you will feel great. You might feel a little tired, but your head will be empty and it will give you a chance to escape from the stress for a while. You don't need to turn into one of those people who go to the gym every night, but if you can manage it a few times per week you will feel better.
Learn how to meditate
By clearing our mind of unwanted thoughts we free ourselves from pain and suffering. Meditation is one of those amazing things that can change your life for the better. Try to imagine that your brain is capable of producing so many chemicals that will make you feel great. When you meditate it helps your brain to produce more of those feel-good chemicals. Just make sure you learn how to do it properly because you might end up doing it the wrong way.
Go on a health kick
Have you ever tried to eat healthy food before? It doesn't count if you had salad on your cheeseburgers. When you start eating healthy food it doesn't just make you feel healthy. You start to feel happy because you know you will end up with a great body. If you don't think you can stay away from greasy food and bars of chocolate you should start small and cut them out of your diet one at a time. Within a month or two you should be well on your way to having a perfect diet.
Break down a big goal
When you can't see into the future it's maybe because you don't have a good way of achieving your main goal. Everyone has a big goal, but you can't wake up every morning and start chasing it. If you can take your goal and break it down into manageable stages you will feel great because each time you get closer to your goal you will feel like you've accomplished something. Start chasing what is right in front of you instead of something that is so far away.
Author: Penelope Jones, the author of this post, works for an established cosmetic center which offers its patients many services such as photofacial and skin rejuvenation in Toronto. During her time off from work, she likes to unwind over a cup of hot coffee and read books.
PDFs About Depression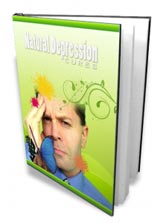 Get this book right away: Natural Depression Cures
Enroll with our every week natural health e-newsletter and pick up home remedy and organic health and well being books such as this one delivered to your email each week free of charge!.
Supposing that you buy my special ebook, "The Big Book of Home Remedies" you are going to additionally acquire immediate access into the secret members area which enables you to obtain all of our 410 and more professional health and wellness ebooks absolutely free.
Related Posts :