Knowing the right home remedies and treatments for this problem is vital as the pain of kidney stones is indeed severe. Read on to discover some super home remedies that actually work and work without any side effects.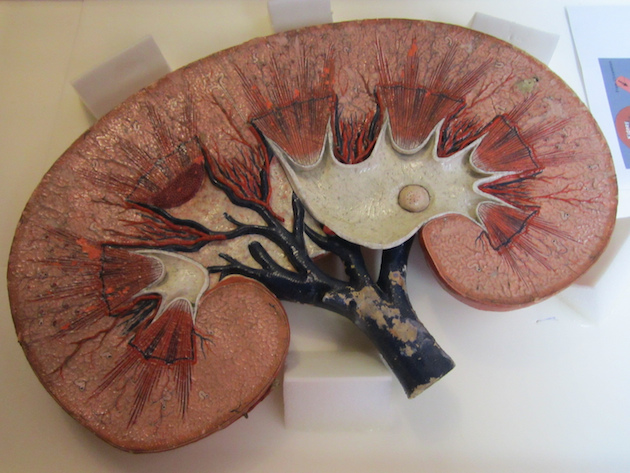 About 16 percent of global population suffers from this painful condition at some point in their lives. There are many effective natural remedies for kidney stones, but you should always check with a health professional or doctor because kidney pain may be indicative of a more serious trouble and a more serious trouble may need a more serious treatment.
Kidney stones are deposits of organic substances or minerals in the kidneys; sometimes they may be minuscule, or they may even grow to a pea size or maybe even bigger. Mostly the victims are men in the age group of 20-40 years, and this problem in congenital. That is, if your parents or uncles have them, then you are also at risk as well.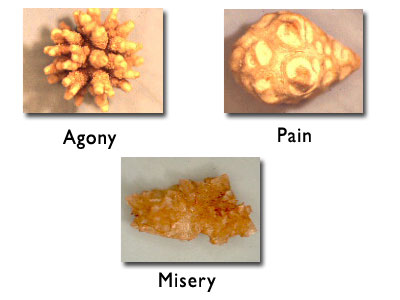 Kidney Stone Pain
This type of kidney pain can be downright unbearable! If you are one of the unlucky ones to have a kidney stone or two, you are not alone. It happens to be one of the most common health ailments faced today.
A kidney stone is a hard crystal formation within the kidneys or out in the urinary tract which may cause pain and discomfort if not able to pass through the system naturally.
So what causes these stones at the first place? Well, their formation can be accounted to several controllable and uncontrollable factors. Kidney stone pain in the body is an indication that something is going wrong in the region and needs immediate care and attention. The symptoms should not be taken lightly and only managed by using over the counter painkillers or simple kidney stone remedies as the condition may deteriorate with the passage of time.
It is always best to check with a health professional.
Unbearable Agony!
A kidney stone pain can occur suddenly and may go off in a while. This may start as pains of shorter duration to bigger ones that are almost unbearable. The pain becomes unbearable at times and should be attended to by a medical expert who can diagnose and confirm the exact cause of the pain. The stone formation presses against the tissues which causes the pain. The smaller stones may pass into the bladder and move out in the urine but the bigger ones remain inside and these are real troublemakers. These may keep increasing in size and cause other complications if left untreated.
The pain that kidney stones cause is an alarm that this is an onset of a problem in this area of the body. This pain should not be overlooked in any case and neither should it be suppressed with self-medication. Home remedies are sometimes ineffective in managing kidney stone pain and medical advice is very much needed in order to treat this condition fully.
Symptoms of a Kidney Stone
Kidney stone symptoms may be multiple out which some may manifest early while some may occur later on with severe effects. Typically it starts with blood in the urine which may be smelly at times. There may be sharp pain in the lower back, abdomen or in the groin region. This may be acute and may happen suddenly and become unbearable. This does not subside even if the person changes position or posture. In acute cases there may be infection in the urinary track which may lead to high fever. The person finds difficulty in urinating and is in a very uncomfortable situation where there is a constant urge to urinate.
The pain may also be accompanied with nausea, vomiting and excess sweating in some people with a feeling of discomfort.
Small sized stones may go undetected for years, without any symptoms, but when they become large enough to block the passage of urine through the ureter, then you may feel severe pain during urination. Other symptoms are chills, blood in urine, nausea, fever and exhaustion. So if you have any of these symptoms and you think you may have a  stone or two, read the lower sections of this article as we have some proven home remedies that will definitely help to get rid of them.

Causes of Kidney Stones
While there is no specific reason as to what causes these kidney stones there may be a few known reasons responsible for the same. Majority of the stones are made up of calcium though there may be other substances responsible for the same. High levels of uric acid in the blood may cause uric acid kidney stones.
The basic reason for stone formation is less intake of water. This is called dehydration which may be due to a person taking less water and other liquids or due to some medical reasons where the retention of fluids becomes lesser. If the fluid intake is less the excess minerals and toxins are not flushed out of system properly. The kidneys have to work extra hard and the mineral deposits are accumulated and may lead to crystal formation over a period of time. The dehydration could be due to less intake of water by a person or external reasons like a hot climate where the body needs extra fluids to keep the system hydrated.
People who have a family history of kidney stones are more prone to developing these at some point in their life. The agony a stone can cause is just a signal from the kidneys that something needs to be taken care of to maintain the balance.
Pain Relief
The first step is to diagnose the disease which is by taking a helical CT scan to begin with. This can detect almost all types of stones with great success. Ultrasound technique is used in rare cases where CT scan is not advisable such as in the case of pregnant women and small children.
Most kidney stones pass through the urinary tract within two days if right amounts of liquids and fluids are taken. The doctor may prescribe medication for pain relief at the first place. Then medication for facilitating the dissolution of stones is tried so that these pass out of the body smoothly.
If this does not help then methods like surgical techniques (invasive) or lithotripsy (non-invasive) are used. In surgical techniques a incision is made in order to physically reach the stone and pick it out from its location. This method may be slightly painful and the wound may take a while to heal. The person may have to take bed rest for a couple of days. In lithotripsy shock waves are passed through the body which break up the stone into smaller pieces and these can then easily pass out of the system in the urine. However surgical technique has to be adopted when the stone is quite large and the condition of the person is critical.


Natural Home Remedies
The following natural remedies can all help the condition of kidney stones and may even cure it completely but if the problem persists make sure to visit your doctor for professional consultation.
Foods to Avoid
Avoid Oxalates: You should avoid oxalates as much as is possible, especially when you are vulnerable to

kidney stone

s. Oxalates are there in decaffeinated tea and in some vegetables and fruits such as rhubarb, sorrel, star fruit, and beets.
Avoid Too Much Vitamin C: As body converts vitamin C into oxalates, you should avoid high doses of vitamin C. You can get it from citrus drinks instead of taking vitamin supplements.
Avoid Too Much Protein: Protein consumption can expedite the formation of calcium or uric acid in the urine, which may ultimately lead to

kidney stone

s so even tho you need a little, don't overdo it.
Foods to Include
Kidney Stone Clear – Homeopathic Remedy for Treating Kidney Stones
CLICK THE BOTTLE FOR MORE INFO!

Fighting Kidney Stones
Kidney stone pain is an early warning symptom which should not be ignored and thoroughly diagnosed well before the situation becomes critical and life threatening. There are many advanced treatments both invasive and non-invasive which can relieve a person from this condition and the person can return to normal activity in daily life. A treatment in time can easily take care of the kidney stone disease. Though the reasons for kidney stones can be many the best thing is to avoid them.
The best possible solution is to drink lots of water to keep the body system hydrated so that the excess minerals and toxins are flushed out of the system properly. This can definitely save a person from the possible troubles of going through a kidney stone pain. This is a very little effort one can make in order to enjoy a healthy life.
Conclusion
Finally, it is best to monitor yourself to prevent this painful condition. It is normal for the healthy people to pass out two liters of urine everyday. If you are passing out a kidney stone, then (if it is convenient enough) you should use a mesh strainer to catch it, by urinating through it. (Keep a mesh handy in your bathroom at home.) A doctor can analyze the content of the stone, and they may be able to determine its cause and may offer you advice on ways to prevent them from forming again.
Having kidney stones is quite annoying and excruciatingly painful, and you can prevent them from forming and can also reduce your pain (if you already  have them) with the help of all these home remedies. Most of the above treatment measures are proven to be very helpful especially in how they attribute in dissolving kidney stones in a natural way. Be advised it is always best to consult with your doctor first before trying any of these home remedies. However, your doctor is most likely to advise taking them as they are all very safe.
Watch this video which explains kidney stone symptoms and treatments.
In this video, A doctor explains how kidney stone pain occurs and develops within the body.
Ebooks related to Kidney Stones


Get this ebook and more home remedies ebooks for free when you join our complimentary newsletter.