Between two and three percent of American teens are diagnosed with idiopathic type scoliosis. While the causes are unknown, doctors do understand that there are certain risk factors to developing the disease.

Idiopathic scoliosis risk factors include:
Genetics – Your family history of scoliosis is a strong indicator of whether or not your child could develop scoliosis. While cases that develop are not linked to family history, researchers have theorized that genetics may cause scoliosis to develop in some children.
Gender – Either sex may develop scoliosis, but girls are statistically at a slightly higher risk of being diagnosed with the disease. Girls typically experience progressive symptoms requiring medical treatments more often than boys.
Age – Scoliosis symptoms usually present themselves before or during pubescent growth spurts. Most diagnoses happen between 10 and 15 years of age.
Scoliosis may lead to complications, and should be monitored closely. There are many treatment options to consider.
Natural Remedy for TIP TOP Bone Health!
CLICK THE BOTTLE BELOW to learn more


Written by Dr. Brian T Dovorany, developer of the TorsoTrainer™ and Scoliosis Cantilever™ designed to reduce and stabilize idiopathic scoliosis through autonomic muscle recruitment.
Free Related Ebooks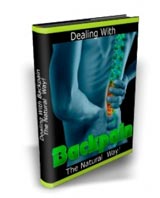 Download this particular e-book right away: Dealing with your Back Pain the Natural Way
Participate in our weekly natural health email list and get home cure plus organic health condition books similar to this one delivered to your email each week free of cost!.
Supposing that you buy my particular work, "The Big Book of Home Remedies" you may additionally gain immediate admission for our reserved members space that allows you to get a hold of all of our four hundred and more quality health and well-being books free of charge.
Related Posts :