Rehab facilities allow one to recover from a physical dependence, but the mental addiction needs to be overcome as well. Stress is linked to the urge to relapse. Strategies for relieving stress without drugs include exercise, playing with pets and listening to calming music.
Addiction happens to the best of us, whether it's gambling, shopping, alcohol or drugs. Many of us become addicted to something at some point in our lives. It's not the end of the world, and it can be treated. Sobriety may seem unreachable when you're dealing with drug addiction, but recovery is not impossible. It will take determination and a few relapses, but change is in your future. The road to recovery is not an easy one, but by identifying the problem and considering change, you've already taken the first step.

Emotional or Mental Addiction

Emotional Addiction and Lifestyle Change
A clean life is a completely different lifestyle. Once released from drug rehab, you will notice that the activities that once consumed your day are no longer an option. If you no longer wish to be addicted to substances, you need to fill up your schedule. The team at Ambrosia suggests picking up new hobbies and exercising. Staying busy will allow little time to even think about drugs.
Family and Friends
Try hanging out with a different group of people and one that doesn't abuse drugs. You will find yourself doing things you never thought of and having good clean fun. Seek emotional support from family. If anyone is willing to listen to you talk on the phone for an hour about how hard it is, it will be them. Specialists at Ambrosia will also listen and provide emotional support.
Go Out and Do Something
Every time a person goes out, they should do something they don't normally do. For instance, if bars and clubs are your thing, try having a picnic or going to an art museum instead. This way, you get to experience the many adventures that life has to offer without using drugs. Try volunteering in your free time, and spend time with people who don't enjoy a drugs lifestyle.
Mental Addiction and a Change in Appearance
Many drug abusers neglect to invest anything in their appearance. You may not have thought about this for a long time, but your appearance says a lot about you. In respect to emotional addiction, a makeover does wonders for self-esteem. Stop dressing like someone who's struggling and smarten yourself up. People will then perceive you in a new, fresh way. What better way to begin a new life than with a new look!
Remember the Negatives of Physiological and Emotional Addiction
Relapse is very common for people who have already taken control of their lives and started to feel good. It becomes a never-ending cycle. However, if you constantly remind yourself of your negative drug-related experiences, reverting back to that will seem like a ludicrous idea. Remember how horrible it felt to feel ill or to be laying on the ground unconscious? Why would you go back to that? This will show how life-changing it really is to change all of the little things.

Overcoming drug addiction is more complicated than people may think. Try to stay focused on your goal, and seek support from loved ones. Other steps to overcoming addiction include finding the right treatment facility and support group. Talking to other people who are going through the same thing will make recovery so much easier. Improving mental and emotional health reduces the chance of relapse. Stay happy and stay positive. The life you want is more obtainable than you think.
E-Books Related to Addiction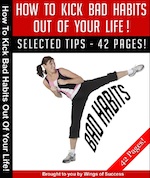 Pick up this book instantly click here: Kicking Bad Habits
Register with our every week natural health email list and pick up home cure plus organic health condition ebooks such as this one supplied to your email every week free of charge!.
In case you purchase my unique guide, "The Big Book of Home Remedies" you are going to in addition obtain straightaway admission for the confidential members space and this allows you to download and install all of our 415 plus organic health and wellness pdfs completely free.