Are Organic Products Really Better?
Organic food is now a staple on the supermarket shelves and many consumers have been convinced of the health benefits of eating organic products.
An increasing number of people are also opting to go for organics for their health and beauty products and have real reservations about the amount of chemicals we are all putting onto our skin and hair. But are there real benefits to using organic shampoo or bath oil?
Allergies and Intolerance's
Allergies are on the rise, and many people find that they suffer dry skin, itchiness and irritation after using commercially produced shampoos or cosmetics. With a huge number of chemicals going into each product, it can be very difficult to work out which one of the many ingredients is causing the allergic response.
Organics generally contain far fewer ingredients and are far less likely to cause a reaction, even in those with the most sensitive of skins. Simple bath oil or massage oil made with a carrier oil such as almond oil and an essential oil for fragrance is one of the simplest products available, but still highly effective. Some people also believe that chemicals found in shampoos and other skin care products can even be trigger factors for developing cancer. See our page on natural allergy remedies for more information on this.
Children
Parents are becoming increasingly concerned about the amount of different chemicals which their children are exposed to every day. Children may not be able to deal with chemicals in the same way that adults do, and a relatively small amount of chemical may affect them greatly. An organic product which only contains natural ingredients will be far kinder to a child's skin and will not cause them any health difficulties.
Environmental Concerns
Products made with chemicals which are derived from petrol and oil products are damaging to the environment both in their production but also in the refining and transportation of the products. With a huge quantity of different products going into one bottle of shampoo or pot of eye shadow, it is easy to see how the environmental impact mounts up.
Organic products which have a lower number of ingredients have less environmental impact. Organic products also biodegrade more quickly and do not cause problems with pollution in the water supply. One of the most recent trends in skin care is that of Fairtrade, where producers in the developing world are paid a fair price for their goods. The scheme originally started in only foodstuffs, but is now expanding into clothing and other market sectors.
Haircare
One of the areas in which organic products can make a huge difference is in the field of hair care. Organic shampoos and conditioners can help colored hair retain its vibrant color for longer, and it can also lessen irritation on the scalp. Harsh chemicals can make problems with thinning hair or hair loss worse, and natural products can help to stimulate the hair follicles to produce new hair growth.
Organic shampoos and conditioners usually have the the essential vitamins for hair growth and often contain coconut oil or aloe vera, both of which help hair shine and appear more healthy.
Click here for the absolute best natural organic skin care products
Citations: Photograph by Gregor
If you're looking for a natural and organic bath oil then Plaisirs Boutique is the place to shop.
Ebooks About Organic Healing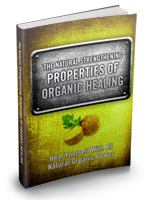 Download this particular book immediately click here: Natural Organic Healing
Participate in the every week natural remedies e-newsletter and gain home therapy plus holistic genuine health books just like this one delivered to your inbox each week free of cost!.
In the event that you purchase my exclusive handbook, "The Big Book of Home Remedies" you are going to furthermore acquire straightaway entry to our exclusive members zone that lets you to pick up any of our 410 plus superb health condition pdfs totally free.
Related Posts :