Out of the $2.2 trillion spent on health care in America each year, over $65 billion lands in the pockets of fraudulent caregivers, according to a recent study social workers, security regulators, lawyers, and doctors about the amount of medical and financial fraud they have noticed in recent years.
The result: It seems that America's elderly is being ripped off, day after day, and not only by crook doctors. 79 percent of the experts surveyed said that family members will steal from their grandmothers, parents, great-aunts, and other trusting relatives. 49 percent said that caregivers stole from the elderly by charging for false exams, false medical records, and even performing unnecessary operations. Some medical scammers billed Medicaid, Medicare, and private insurers for the same procedure, which may have not been performed at all. 47 percent of the experts said that the elderly are falling victim to financial scams from telemarketers, Internet health-care scams, and drug ads.
Elderly people, including veterans, sometimes have impaired mental health or trouble processing memories, and open their wallets and bank accounts to people who could care less about their health. Some are trusting, some are skeptical, but all older Americans grew up in a world much different than the one we live in today. Scams were not as complex in those days; the Internet didn't exist; and the promise of medical solutions was not as extravagant. Today, it takes little more than a list of identification numbers to create a fraudulent medical charge.

Here is a list of ways that you can help yourself or a loved-one avoid health care scams:
Awareness
Watch out for medical care advertisements at senior centers, libraries, or other places that target the elderly. These ads are not always valid.
Check Your Medical Bills
This is an excellent way to prevent charges for false examinations or wheelchair rentals that never happened. Medical billing and coding fraud is the primary way for shady physicians to sneak out money. Also, ask for receipts after each visit to the doctor.
Education
Many seniors do not know how to pick a good financial advisor. Do some research or get a referral from a family member or a friend. Make sure you know the ins and outs of medical billing and coding practices.
Check Out the Investor Protection Trust
The Investor Protection Trust has trained 3,000 doctors and health care providers on how to spot the signs for impaired mental capacity that fraudulent caregivers and scammers look for. These experts can inform you about the likelihood of someone trying to scam your healthcare, and how to look out for shady medical practitioners.
Be Wary of Telemarketers and Internet Advertisements
Telemarketers and Internet ads offering reduced health care rates will sometimes attempt to get information without intending to offer any real service. They pose a threat, and you should apply caution when dealing with them
Work with the Medicare Strike Force teams
Since 2009, funding has increased for the Medicare Strike Force teams (now $3.2 billion per year), which seek out health care scams. They use fact-checking computer programs to cross reference medical bills, and blacklist fraudulent doctors (who will no longer be able to bill Medicare).
Sharina Grace is a freelance writer that focuses on healthcare and the medical industry.
PDFs of Interest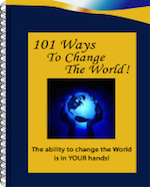 Obtain this book instantly here: 101 Ways To Change the World
Sign up to our once a week home remedies news letter and gain home solution plus natural health and wellness pdfs like this one sent to your inbox each week free of cost!.
Assuming that you order my unique guide, "The Big Book of Home Remedies" you are going to also obtain immediate access into our reserved members location and that lets you to get a hold of any of our four hundred plus professional health ebooks completely free.
Related Posts :