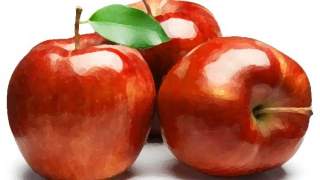 Everyone knows the Welsh proverb that says "An apple a day keeps the doctor away" but have you ever put any thought as to why that is?
Apples are jam packed with important antioxidants, flavanoids and dietary fiber! The nutrients provided in apples might even help reduce the risk of cancer, diabetes, and heart disease.
Apples can even help reduce the risk of stroke! Thanks to the antioxidants found in apples, a study involving 9,208 men and women was able to prove that those who ate the most apples over a 28-year period had the lowest risk for stroke.
In another study, a group of researchers the The Florida State University found that women who ate apples everyday for six months were able to reduce their bad cholesterol by 23% and increase their good cholesterol by 4%!
Apples provide a laundry list of benefits, including preventing dementia. Researchers at Cornell University conducted a study which found evidence to suggest that apples may help "protect neuron cells against oxidative stress-induced neurotoxicity", which could reduce the risk of developing neurodegenerative disorders such as Alzheimer's disease.
Something as simple as eating an apple a day could impact your life in more ways that you can imagine. Eating an apple a day has even been found to help prevent breast cancer and lower the risk of developing type 2 diabetes. Incorporating this miracle food into your family's daily diet might be worth the effort. In addition to keeping the doctor away, an apple a day will help keep the bad cholesterol, dementia, and diabetes away too.
Written by Charlie Marquez.
As Published by The Empire State Tribune
Related Posts :