Impotence in men can be a serious and psychologically difficult problem to come to terms with. Male impotence, also termed as erectile dysfunction, is defined as the inability of a male to maintain an erection or have any erotic vigor. There are many causes for this condition, mostly caused due to aging, but also can be the result of surgery or the use of pharmaceutical drugs.
There have been great advances made in the treatment of erectile dysfunction in recent times, with innumerable over the counter medications and even impotence treatment using surgery being prescribed in certain cases. But as is the case with medication, they alleviate the symptoms, only to bring in new problems and new side-effects to the table. There's the homeopathy and the natural home remedies of course, the other side of the coin. But half of the time is spent in pondering over whether they work or not and about the length of the treatment.
Electrotherapeutic Treatment for Erectile Dysfunction

People want a cure that works, fast, and is safe and reliable – Enter the Electrotherapeutic Treatment.  Electrotherapeutics or 'shock treatment' is defined as the use of electricity in the alleviation and cure of a disease, which can be used in curing impotence, once and for all.
During the 16th and 17th century's, being impotent had much more serious ramifications that it does in today's world. In 16th century France, being impotent was considered a crime. A very popular and hence widely practiced solution to the problems was by using shock treatment then. Its use became much more widespread in the 18th and 19th century, and only after the next turn of the century did the other forms of treatment replace it. To explain the process briefly, low voltage shock waves are introduced over a period of a few minutes to the tissue area, thereby stimulating the blood flow permanently through the penis. Sounds painful, but it worked.
Now the question is why did the practice die out, if it was so in vogue earlier? Well, it's not hard to understand why people jumped ships, considering the easier and more refined treatment process to the crasser one, when options came into existence. Electrotherapeutic Treatment also was also not considered the safest means of solving the condition. I know, a shocker right? There was the perennial fear of exposure to prolonged electricity and hence injury. But with advances in technology and our understanding of the problem, it's time electrotherapeutic treatment is considered once again.
Male Impotence might be an embarrassing problem, but needn't remain so forever. There are the pills, injections, surgeries and implants, and then there's the Electrotherapeutic Treatment. You might choose one of the former, but don't be surprised if shock treatment very well becomes the next go to cure for Erectile dysfunction.
Author Bio:
The author Trevor Astrope is a licensed Clinical Laboratory Scientist. With an M.A. and Ph.D. in Psychology and B.S. in Biological Science; the combination of both the fields of psychology and medicine augmented with extensive experience gained while working on cutting edge technology in medical research laboratories over a decade has given the author the expertise required to write blogs and medical literature encompassing on varied medical topics including sexual health and the human psychology to deal with it. On this website you can know more about physical causes of impotence.
Ebooks About Erectile Dysfunction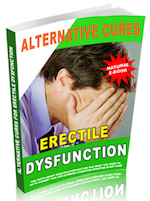 Acquire this particular ebook immediately: Alternative Cures for Erectile Dysfunction
Enroll with our weekly natural remedies news letter and have home cure plus organic health and wellness pdfs such as this one presented to your inbox every week totally free!.
Assuming that you purchase my special guide, "The Big Book of Home Remedies" you are going to furthermore attain prompt accessibility to our secret members zone that enables you to download and install any one of our four hundred and more holistic health-related books absolutely free.