Detoxification is a process of entire body cleansing in order to remove accumulated debris, waste and toxins from cells and tissues of the body.
Drinking a lot of water is a requirement for body cleansing. Fruit juice and vegetable juice can also serve the purpose of water. The recommended liquids help in diluting toxins and removing waste from the body.
Some methods of Detoxification, Body Cleansing, and Colon Therapy are explained in this article. The fluoride in the body can be detoxified by some easy home remedies. Fluoride causes some severe chronic and health complications to the body.

Introduction:
Fluoride Poisoning
Fluoride is not a heavy metal but a soluble salt. Sodium fluoride and calcium fluoride are the types of fluoride. Calcium fluoride is found in seawater and sources of underground water and it can lead to dental and skeletal fluorosis which affect dental and bone matter. Sodium fluoride exists in waste product from industries manufacturing phosphate fertilizer and aluminum. It has the capability to multiply and accelerate the toxicity of waste materials. It also exists in baby foods, bottled water, insecticide and pesticides used at home.
Fluoride can damage the kidneys and liver, reduce the immune system, develop cancer, create fibromyalgia symptoms and transmit aluminum through blood barrier in the brain. It can also affect the pineal gland in the brain which becomes stiff due to fluorides thereby interrupting melatonin production. Melatonin helps in deep sleep, sound and its interruption can cause thyroid problems that interfere with endocrine system.
The Detoxification and Body Cleansing Home remedies
The first step in detoxification is avoiding consumption of toxins. Water can be purified by distillation or reverse osmosis in communities that have fluoridated water to reduce fluoride toxicity. In distillation process, all the minerals are removed by use of unsulfured molasses or fulvic acid. Avoid commercially grown and sprayed foods while consuming locally grown or organic foods to minimize sodium fluoride intake. For instance pharmaceutical drugs and processed food such as babies' soy milk, grape juice and ready-made tea should be avoided since they have high percentage of sodium fluoride in them.
Magnesium is a very essential mineral that many people ignore in their diet but facilitates synthesis of nutrients and metabolism in the body. It also prevents the penetration of fluorides in the cells. Calcium is another mineral that inhibits the fluorides away from the teeth and bones. This calls for inclusion of calcium and magnesium in the health supplement during detoxification of fluoride.
Consumption of iodine has medically proved to raise urine addition of sodium fluoride in the body as a calcium fluoride. The calcium in the body is reduced indicating that you should consume more magnesium and calcium supplements. Lecithin is a type of iodine recommended for removing fluorides in the body. Lack of effective iodine in the body can lead to hypothyroid symptoms of metabolic or lethargy imbalances. Foods from sea weed and iodine supplements are recommended as they provide both potassium iodide and iodine.
Tamarind that is available in some parts of Africa, Southeast Asia and India has been used to excrete fluoride by urinating. The leaf, bark and pulp from the tree are converted to strong tinctures and tea.
Liver cleanses have also been effective in reducing fluoride toxicity in the body. Liver cleansing is categorized into two types which is a simple home remedy; one concentrates on the liver itself while another cleans the gall bladder which is connected to liver functions.
Boron has also proved to be a home remedy for liver detoxification. The boron is contained in borox found in many supermarkets. It is taken in small quantities using pure water. Around ½ teaspoon of boron mixed with one liter of water is considered effective and safe
A combination of exercise and dry saunas removes sodium fluorides in fatty tissues. However, excessive intake of sauna can lead to risky side effects. Regular exercises help in burning fats and excite all the body muscles. The forms of exercises are such as running, dancing or even walking.
Colon Cleansing
The colon is a body organ located at the end of digestive tract. It's a very essential organ as it absorbs water and salt from solid wastes that are just about to be removed from the body. There are digestive bacteria in the organ making the absorption efficient and easy. However when absorbing, impurities like harmful chemical and toxins are retained within the colon. This could give rise to some digestion problems hence a need to be removed from the body defining the colon cleansing process. See our natural colon cleanse article.
Natural Treatments
Aloe Vera Juice: It has detoxification characteristics and hence is a laxative. It is prepared by around 400g of Aloe Vera leaves cut at both ends and edges to give a smooth surface. The leaf is split into two equal parts and the gel on the peels is put on a container. The gel is then put into a blender and citrus fruit juice added to it. It is blended until a fine juice is obtained and then refrigerated. It can then be consumed as a home remedy to colon cleaning.
Senna: It is a flowering plant which excites movements of the colon and reduces constipation. The bowl movements are regulated and reduced due to this. In order to prepare the home remedy, 10 oz of rose extracts, 8 oz of sultana and 8 oz of senna are required. Senna and sultan are boiled in water then the liquids filtered and mixed in a bottle. Hot water and rose extract are added to the bottle.
Ginger: It stimulates the colon thereby facilitating bowl movements and lowers bloating. It can be taken in any form like cut pieces, juice or mashed. Juice is obtained by crushing the ginger. The husk can be mixed with jiggery and cooked. The juice can be mixed with water and honey and then consumed.
Cayenne Pepper: It's very effective on colon cleansing abilities due to its detoxification capabilities. The mucus which slows the working of colon can be broken by cayenne pepper. It can be mixed with any drink or food such as honey or warm water.
Detox Drops: This can be used to safely to clean out the system. It assists the body's natural capability to get rid of toxins and waste products, without any nasty side effects.
CLICK THE BOTTLE TO LEARN MORE ABOUT DETOX DROPS!

PDFs Similar to Body Detox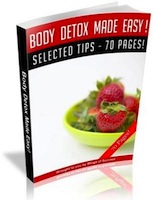 Grab this ebook immediately click here: Body Detox Made Easy
Take part in the weekly natural health email list and obtain home therapy and natural health-related ebooks similar to this one delivered to your email weekly completely free!.
Should you invest in my exclusive ebook, "The Big Book of Home Remedies" you are going to also obtain immediate accessibility for the special members location that authorizes you to download any one of our fourhundred and more organic health and well-being ebooks free of cost.