"Love Yourself". I loved reading that book back when I was young. The book, which can be read through fairly quickly, was written by Pat Palmer back in 1977. My mother had bought it for me, I remember. What liked best about that book is this quote, written on the last page:
"You can find your own strength and power. You can learn what feels best to you. You can let go and allow yourself to be, and you can LIKE YOURSELF and be your own good friend, and a good friend to others, too!"

Do not underestimate the power of love:
Like Yourself for who you are
Since then, I concentrated on liking myself. It is very important to appreciate one' own self, to be grateful for the gifts in our lives, to be able to identify the qualities that we have. However, I have discovered that simply liking myself is not enough. It is imperative that we also love ourselves. It is important to place a value on what e already are, to love ourselves the way we are. This does not mean that one should love the fact that he or she becomes drunk frequently. What I am talking about is positive self-love. A love that makes us our own friends first. No one, absolutely no one other than God, can know me the way I know me. No one can know you as much as you know you. And no one can love you the way you do, or more than you do.
This quote, really made me think :

"No matter what age you are, or what your circumstances might be, you are special, and you still have something unique to offer. Your life, because of who you are, has meaning."
– Barbara de Angelis
No-one else like you
It is this uniqueness in ourselves, in each of us that helps the world be the wonderful place it is, and because I love what I am, I am also able to give my best when it comes to doing anything. For this reason, it is very important to love and nurture one's own self, to feel that we are worthy human beings, to consider our own selves to be in a loving relation with ourselves, wherein there is consideration for our weaknesses and lacking, and not a constant pressure to enforce our desires or those of others and needs, even though we know that we do not really want to. If we do have some weaknesses, let us do what a true friend would, and slowly but surely get on top of the situation. And never, ever, stop being thankful for what we are and who we are.
To find out how much you love yourself and your life, make a list of things that you like most about your own self. You can even email me the top ten ones, and I will email the ten things I like most about myself to you. But most importantly, remember and keep that list close to your heart – to weather through the rainy days.
For those of you who are depressed or going through a down period in your life, i do hope this short article has helped you to feel better about yourself.


You might also like to visit our page on natural remedies for depression.
Mood-Altering UltraPack for Grownups


Naturopathic medication Melancholy Lift for somber, despair, pain, and weeping + Homeopathic medical treatment Threefold Synthesis Emotional state Strengthener concerning conditions of weak mental condition like impatience and unhappiness + Pure organic and natural support MindSoothe for a well-balanced frame of mind
Unhappiness Pick-me-up (1 bottle):
Minimizes quiet mental states and somber disposition
Lightens weepiness and episodes of tears
Triplex Complex Mood Tonic (1 jar):
Lowers anger and also glumness
Control regular serotonin amounts within the wholesome reach
MindSoothe (1 vial):.
Diminish general emotions of sadness.
Keeps a positive mindset and favorable mood.
Learn More About This Ultra Feel Better Combo Here!
Article written by Andrew Ellis from www.Steamshowersupply.co.uk online health super site.
E-Books Similar to Helping Yourself to Love Yourself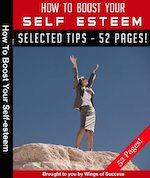 Get this particular e-book immediately click here: How To Boost Your Self Esteem
Enroll with the weekly e-newsletter and pick up home cure and natural health and wellness books such as this one dispensed to your inbox weekly free of charge!.
In case you purchase my unique handbook, "The Big Book of Home Remedies" you are going to also obtain immediate accessibility to the exclusive members zone and this authorizes you to acquire any of our 230 plus high quality health condition books completely free.
Related Posts :