I have had back pain for years. Even when I was younger, I can remember feeling my leg go numb, often followed in a few days by severe muscle spasms in my back.
It would cause me to simply have to stop all activity for days until the muscle relaxers and anti-inflammatory medications could take effect. I got tired of this happening every few months, but the doctor said that I would have to live with it or go through extensive physical therapy or surgery.
A friend suggested that I visit a chiropractor. I was hesitant at first. What if they made my pain worse? She assured me that a chiropractor could really help, so I made my first appointment. My chiropractor was so knowledgeable and was able to make me comfortable with having my first adjustment. Within just a few adjustments, I was hooked. I knew that this is what would finally allow me to live my life pain free without having to worry about my back going out.
How Does Chiropractic Help?
You are most likely wondering how a chiropractor can help. Let me explain. The sciatic nerve is the longest and largest nerve in the body. It runs from the lower lumbar region of your back down your buttocks and legs all the way to your feet. If the nerve is entrapped anywhere along that route, it will cause numbness, tingling, and/or pain all along the route of the nerve. Many people assume that it is due to vertebrae compressing the nerve in their lower lumbar region, but it can actually be anywhere. This is what a chiropractor is able to treat.
A chiropractor will check the movement of your body and evaluate how the muscles contract to find the area that is being entrapped. Once they find the area that is the issue, they can manipulate the body to release the nerve and give you relief. Getting the body into proper alignment is the goal of a chiropractor and it can make all the difference in your life and activity level. This is not the only thing that you need to do, however.
Benefit of Adjustments and Exercise
Treating back pain and releasing the nerve can be a combination of adjustments and exercises that you do at home. Dr. Tarveen Ahluwalia says, "It is important to follow up with strengthening and stretching exercises." There are many different exercises that you can do to help you to get your body healthier. Here is a one-minute exercise program that can help your sciatica and allow you to keep from having issues.
Sit on floor with legs stretched out in front of you. Bring one knee into your chest keeping your foot parallel to the floor. Hold for 10 seconds and switch legs.
Lie on the floor with knees bent. Bring legs up keeping knee bent until your feet are off the floor. Do this 5 times.
While still lying on the floor, bring one knee up to your chest leaving the other leg straight. Hold for 10 seconds and switch legs.
Sit up and try to touch your toes. Go as far as you can and hold for 10 seconds.
Decreasing Sciatica Pain Is Possible
Regular adjustments, along with strengthening and stretching exercises, can be your key to finally being able to live your life without the pain of sciatica.
I have been pain free for almost two years now and I cannot believe that I did not go to a chiropractor sooner. I spent almost 20 years having back issues every few months or so. I could have spent my money at the chiropractors and had relief much sooner.
Don't be like me. If you are having issues with sciatic pain, find a chiropractor. Ask friends or family for suggestions and do your research. You are sure to find a chiropractor that will help you get the pain free life that you are looking for. You will be wondering why you did not get help sooner.
Applying what you have learned from the chiropractor at home will become your own personal back pain home remedy and will have you pain free in no time.
Freelance writer, Melissa Cameron, has a love of research. She discovered the Internet back in 2003 and is currently writing a series of articles on back pain and the importance of developing an ergonomic work space with the assistance of a Qualified Chiropractor. Melissa lives in Austin, Texas, with her husband Dave and her 2 amazing kids.
Special Herbal Remedy for Sciatica
Click the bottle below to learn more about – SciatiGon
Ebooks Related to Sciatica and Back Pain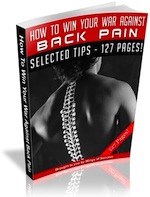 Acquire this particular e-book right away click here: Win the War Against Back Pain
Participate in the once a week natural remedies e-newsletter and get home therapy plus natural health books one supplied to your inbox weekly for free!.
When you purchase my customized guide, "The Big Book of Home Remedies" you are going to additionally secure straightaway admission to the privy members zone and that enables you to get any of our four hundred plus all-natural health and well-being pdfs free of charge.
Related Posts :