What Are Home Remedies? – What is Holistic Health?

So what are home remedies exactly? Natural and holistic home remedies are cures and medicines which are prepared from things readily available in the home environment, such as fruits, vegetables, grasses, spices and herbs.
These substances are common items that we normally encounter on a day to day basis. These types of remedies are easy to prepare in one's kitchen to deal with common ailments.
What Are Home Remedies Used For?
So, what are home remedies used for? well, they are used effectively in the treatment of a wide range of ailments. They are able to offer treatment if they are used correctly and regularly. They are also very often derived from natural sources and holistic health. One of the best advantages of home remedies is the number of illnesses and health conditions in which they can treat. Some of the common ailments that ca be treated and cured include;
What is Holistic Health?
A common feature of holistic health treatments and herbal or homeopathic remedies is that they can usually be administered by a lay person.  This feature makes it unique and pleasurable to use because you are able to cure yourself. They have certain medicinal properties that make them be used in the treatments of common ailments. However, to answer the question of what is holistic health? properly we need to understand that it means wholeness and natural. In a natural way, often with some form of alternative medicine we treat the persons whole body or  whole self, rather than just the actual illness or the part that is sick or injured. That is what holistic health is.
These cures have ingredients that are dangerous to bacteria, viruses and fungi that cause ailments. These ingredients are usually natural compounds that perform a particular action against the micro-organisms leading to cure. The medicinal properties they contain are for example anti-fungal, anti-viral and anti-bacterial. It is these properties that help in the treatment of the common ailments.
Another property of herbal remedies is that they enhance the immune system which helps the body to fight diseases. This is particularly true if they are taken orally in the diet or as supplements.
Modes of Action
The ingredients contained in most home remedies work against disease causing organism through various means such as:
They kill the micro-organisms
They prevent their multiplication
They  block or interfere with crucial processes that can lead to the survival of microorganisms e.g. they can stop cell wall formation in fungi that causes yeast infection
They make the environment un-conducive for the micro-organisms to survive
They boost the immune system making the body able to fight micro-organism through the first line of defense.
Advantages of Home Remedies

In the recent times, especially with the internet, more natural treatments have become popular. There are many advantages of home remedies and reasons why people have opted to use them. They include the following:
Home remedies are simple to use and prepare. Making the concoctions does not require expertise; anybody can prepare and administer them effectively.
Home remedies have fewer side effects and these are mild.
Home remedies have no chemicals that could be harmful to the body
Home remedies are cheap and easy to find. They can be found in one's backyard, farm or readily in the market at cheap rates.
Home remedies are more effective against many illnesses. One kind of home remedy can be used to treat several types of other illnesses.
Some Common Examples
Apple cider vinegar
Yogurt
Boric acid
Tomatoes
Almond
Nuts
Eggs
Turmeric
Green tea
Baking soda
How Are Home Remedies Used?
Depending on the affected area and the type of home remedy, there are many ways in which you can use them during treatment. Some can be cooked while others are used in their raw form. They are then either eaten or drunk especially if the illness is internal. Others are applied topically on the affected area for example the skin area. The application is usually done by squeezing the remedy contents on the affected area.
Another way in which they are used is by inserting into the infected regions. Example of where insertion is used is during vaginal yeast infection and garlic clove is inserted to the vagina to cure it. Home remedies are also used in bath water, in body lotions and oils. There are lots of advantages of home remedies so why don't you give them a try?

PDFs About Home Remedies and Holistic health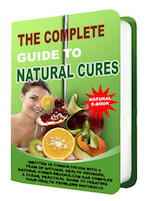 Get this e-book right now here: The Complete Guide to Natural Cures
Sign on our once a week natural remedies newsletter and get home therapy and organic health and well being pdfs such as this one delivered to your inbox weekly scot-free!.
Should you order my personal guide, "The Big Book of Home Remedies" you can furthermore gain straightaway accessibility to the exclusive members area which allows you to install all of our 400 and more high quality health and well-being books totally free.
Related Posts :